Today data plays an important role as Information is one of the major area for any business. In order to understand the value of data for any business data analyst skills is necessary. If you are looking for career as a data analyst then you are on the right site where we would be discussing the best tips on improvising your resume as a fresher for data analyst job.
As per market research there is high demand for data analyst job in Canada as well as in other part of the world. Before we initiate the tips for creating good resume for data analyst is it better to understand what the job responsibilities of a Data analyst are.
You may find lot of advertisements for Data analyst job that showcases the following responsibilities.
Providing data storage arrangement, data mining, and data cleaning expertise
Based on the figures and facts available needs to draft business decisions
Analysis of various areas such as sales figures, logistics, Market research and analysis.
Crafting procedures to make sure confidentiality of data is there
Providing solutions to any future problems.
Writing a resume can be difficult, even when you are aware of the types of things that are likely to appear in job postings for data analysts. Herein lies the value of this manual. 
We'll go over the following with you:
Presenting your contact details
Writing a powerful resume summary
The 35 essential abilities for data analysts
Outlining your qualifications as a data analyst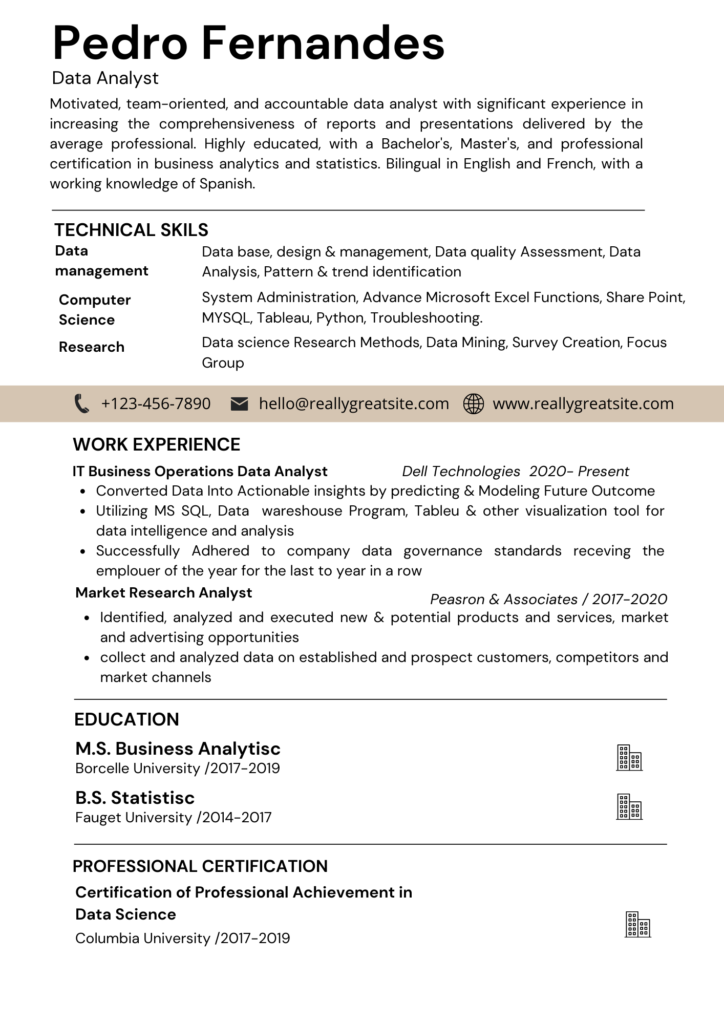 1. Presenting your contact details
In the past, a person's complete address would appear on a resume. You can omit your complete address and just state your city and region.
Take note of what Pedro does.
He includes his phone number, email address, LinkedIn, and profiles when providing contact information to prospective employers.
This is a smart strategy because the profile will highlight her technical expertise and any previous projects or repositories she has worked on, while the LinkedIn profile will give hiring managers who aren't engineers a sense of her broader skills and career history
2. Writing a powerful resume summary
Now let's discuss the main points of your resume. Again, let's do this using Perdo's resume.
Him resume's summary is concise, optimistic, and clear. Because they are frequently the first thing hiring managers read, resume summaries are an important component of your entire resume.
"Perdo's elevator pitch explains how he is driven, team-oriented, and responsible – key character traits in a role whime you'll need to work well with people and ensure that data is gathimed and used honestly and accurately," reads the pitch.
Consider the summary of your resume as a "elevator pitch" about you and what you do.
Here are some examples—one good and one bad—to guide you.
An effective data analyst resume summary
Meticulous and complete Data analyst who is committed to assisting businesses in succeeding. MBA graduate and former small business owner. Possessing strong technical abilities derived from extensive engineering training.
Bad Data Analyst Resume Summary
I have a strong background in math and science and am a passionate data analyst. In third grade, I worked as the accountant for a friend's lemonade stand. Since then, I've raised money for the high school drama club and obtained an internship at a business run by a friend of my mother.
3. The 35 essential abilities for data analysts
Character and prior employment history are important, but your skills are equally important.
Since Data Analysis is a highly technical position, make sure to list technical skills and think about including a section on more general skills. Possess any of the following abilities? Which ones, if any, are most pertinent to the position you're applying for?
Hard Skills for a Data Analyst Resume
Math – statistics & probability
Logic & analysis
Relational databases – MySQL
Troubleshooting &Problem
Trend Identification& Pattern
QA Data and Data mining
Database Management & design
SharePoint and advanced Microsoft Excel functions
Qlik& Tableau
Business intelligence (BI)
Programming languages
Risk management
System administration
Quantitative methods
Data warehousing
Regression analysis
Data science research methods
Experimental design & analysis
Tech support
Survey creation
Soft Skills for a Data Analyst Resume
Strong Communication and Effective public speaking
Report writing and clear writing
Critical thinking
Attention to detail
Risk assessment
Training and instructing
Reducing jargon
Organization
Collaboration and teamwork
Creativity
Leadership
Project management
Decision-making
Time management
Efficiency
4. Highlighting Your Successes as a Data Analyst
How about your work history?
The majority of people list their responsibilities and duties in this section or even copy and paste information from previous job advertisements. Avoid doing that. Instead, turn the work experience section on its head and describe your accomplishments using concrete results and outcomes.
Excellent Cases of Accomplishments for a Data Analyst Resume
market analysis was completed, which led to a 21% increase in sales.
To track and analyze data, Minitab and SPSS were used.
Conducted research on three different products using focus groups, and as a result of the findings, sales rose 11%.
Led efforts to improve data flow.
To track sales, key performance indicators were created, and costs were cut by 17%.
Thus, you should refrain from describing your prior employment in roles like this.:
incorrect examples
Analysis of the market
To handle data, programmes on computers were used.
Holding Focus groups.
Perdo highlights him accomplishments by describing how him high data adherence standards at Dell led to him being named Employee of the Year twice in a row. Consider your significant contributions as an individual contributor or team member in previous jobs.
Well, theme are plenty of resume templates out theme in order to create professional Data analyst resume for your jobs. Start building now
About ITedge
We provide training to young professionals who want to work in the field of Information Technology. We make sure that thriving newcomers develop the competencies to keep up with advances in technology. To maximize learning and growth, we provide a blend of concepts, theories, and hands-on practice.
Please follow and like us: