Data Analyst's jobs in any organization are qualified employees or can be a consultant who understands and specialize in maintaining, gathering, and scrutinizing data which is available from different sources. Some of the sources through which a DA collects the data include reports and surveys. Based on the relational databases conclusions are drawn after complete data is analyzed. A DA uses various data management and reporting systems in order to specify and examine the data.
The Data Analyst is the expert whose focal point of investigation and problem-solving relates to data, types of data, and relationships among data elements within a business system or IT system.
As mentioned that the role of the data analyst is many based on the requirements of the organization – Although let us understand what are the various critical list of task that needs to be performed by a DA in a business
One of the most critical parts of being a DA is to ensure proper documentation of kinds and various structures of the business – including roles, hierarchy, departments, forms, fields etc. the number can be many but this structuring helps in better understanding of how critical each department and processes are to the organization.
Understanding and Mining business data in order to categorize the correlations and patterns among various data points.
Tracing and mapping of data from one system to another in order to resolve the problems faced by the organization.
Generating various data reports through the use of the best reporting tool in order to ensure powerful decision-making by the heads of the department or company.
Performing mathematical and statistical analysis of existing and old business data in order to craft decisions for the future.
In today's market, there is a rising trend with businesses to combine the information in databases and analyze investigate or question it for business meaning, evidence, trends or insight which will help them do improved business or become more aggressive in their marketplace.
As a data analyst, you should possess a few of the qualities mentioned below and should be able to demonstrate through your work to become a successful data analyst.
As mentioned above there can be more criticalities while working as a Data analyst although a good online course for Data Analyst can help you to achieve and understand how to perform in an organization with the designated role of Data Analyst.
Role & Responsibilities of Data Analyst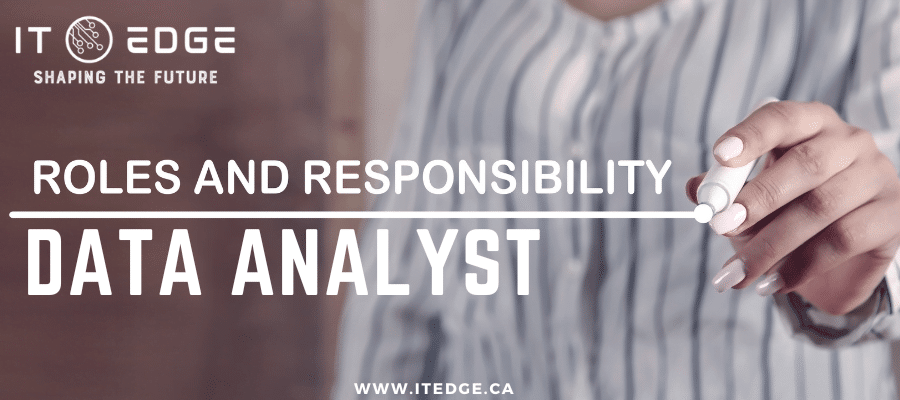 Although there are some roles and responsibilities that need to be cultivated as a DA. While applying for a Data analyst job you can ensure the following skills are applied to your resume or CV in order to gain maximum benefit during the interview.
Must understand analyzing large data sets
Understanding of investigating or querying data using SQL
logical Problem-solving skills with an understanding of reporting tools such as SQL server reporting, Crystal reports etc.
A DA must possess strong analytical skills
Presentation skills and communication skills in order to interpret the conclusion after the data analysis.
All over the above a specialized online course or a college degree with a specialization in software management or data management is a good order to enhance your skills as a data analyst
Do Read: https://itedge.ca/job-description-and-expectations-from-a-data-analyst/
The rising demand for data analysts
The data analyst position is in Great demand as organisations rapidly expand their analytics capabilities. IDC predicted in August that big data and analytics software profits would reach $66.8 billion this year, with an 8.7% CAGR through 2024.
Data analyst salary in Canada
According to data indeed.com, the average salary for a data analyst is 4,418$ per month in Canada. This information was updated on November 19, 2022.
Data analyst salary in different companies in Canada
According to Glassdoor.com In the Toronto, Ontario, Canada area, the estimated total yearly pay for a data analyst is CA$69,341, with an average pay of CA$64,390. These figures show the median, or the midpoint of the ranges, from our unique Total Pay Estimate model, which is based on data on salaries gathered from our users. The estimated annual increase in pay is $4,950 CA. Cash bonuses, commissions, tips, and profit sharing are all possible forms of additional compensation. The values in the "Most Likely Range" fall between the 25th and the 75th percentile of all the payment information that is currently available for this role.
ITedge, the best IT training institute based in Toronto, Canada, provides hands-on training to young professionals interested in working in the field of information technology, such as business analysts, quality analysts, IOS development testing, and so on… We ensure that you achieve your career objectives by providing the best industry-recognized learning path and thriving to develop competencies with advancements.
Please follow and like us: